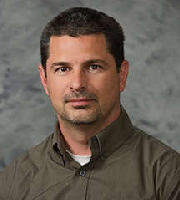 BRIAN KELLEY, PhD
Senior Partner
202.809.3399
brian.kelley@innovativefundingpartners.com
Brian Kelley's resume is a testament to his efficient, methodical work ethic. He received his undergraduate degree from Geneva College in less than three years, going on to complete his doctoral degree in Experimental Biological Psychology (with concentrations in Neuroscience and Pharmacology/Toxicology) from Virginia Commonwealth University/Medical College of Virginia in less than four years.
Dr. Kelley served as a faculty member in the Departments of Neurology and Psychiatry and Behavioral Sciences at the Medical University of South Carolina. This was an appointment he received after completing a Medical Research Fellowship with the National Institute of Alcohol Abuse and Alcoholism.
Despite his accelerated educational pace, Dr. Kelley has taken a very interdisciplinary approach to his studies and research. His broad background, spanning areas from molecular biology to clinical trials to community-wide prevention programs, has provided him with many unique opportunities to collaborate with a diverse group of professionals.
He is an award-winning and widely-published researcher who supported his own research career through a variety of regional and national grants. Dr. Kelley has worked with a variety of organizations and institutions to help secure foundation and local, state, and federal funds to support biomedical research (basic and applied), education (technology and pedagogy), and prevention efforts (substance abuse, STD/HIV-AIDS, and mental illness), and has served as a grant reviewer for several granting agencies. Not only is Dr. Kelley proficient in developing grants but he has many years of experience as a methodologist and statistician.  Dr. Kelley has also developed the human subject sections for many research projects from the IRB to informed consent to data safety and monitoring plans.  Dr. Kelley currently serves as a reviewer for several prestigious medical journals including Life Sciences, Journal of Developmental Psychobiology, Biological Psychiatry, Journal of Neuroscience Methods, and Pharmacology, Biochemistry, and Behavior, and he is on the editorial board of Neurotoxicology and Teratology.
Dr. Kelley's extensive experience in research and writing has enabled him to quickly translate research ideas into fundable opportunities and successful projects. Dr. Kelley as helped develop and write successful grants for NIH, AHRQ, PCORI, CDC, SAMHSA, SBIR, CMS, HRSA, and many more agencies and foundations.  Yet, he also understands that grant writing is a team effort that is best served by a flexible, fluid, predictable, and proactive relationship between himself and the client. Ultimately, Dr. Kelley understands the underlying goal of grant writing – to improve the lives of people.